Opening Hours 🕘
We are open most days through out the week and you can 'click n collect' from the store.
Due to our location (next to Heathrow Airport - Terminal 5),
we are easily accessible as we are based near Slough, London, Berkshire!
COVID-19 Shop Rules as set by the Government
Shop is Closed for Browsing buy you can Click and Collect!
We will still be trading online as this part is still allowed so at any point you can still purchase any of our products for delivery.
Click and collect will also be available in line with the regulations.
If you wish to make use of our click and collect service you must order online in advance.
You will not be able to enter the store and then click and collect.
When you arrive to pick up your products, please ring the doorbell and wait for a member of staff.
You will need your invoice number and purchase details.

Address
onlyBBguns
17 Willow Road
Colnbrook
Berkshire
SL3 0BS
Monday
10:00 to 18:00
Tuesday
10:00 to 18:00
Wednesday
10:00 to 18:00
Thursday
10:00 to 18:00
Friday
10:00 to 18:00
Saturday
10:00 to 18:00
Sunday
Closed
Where are we!?
We are just of Junction 14 on the M25
If you are using Sat Nav use the postcode SL3 0AP which will lead you in to Blackthrone Road,
which then will go on to Willow Road and we are at the end on the level hand side.

Interactive Google Maps Above
Directions
Below is the only way getting on to Willow Road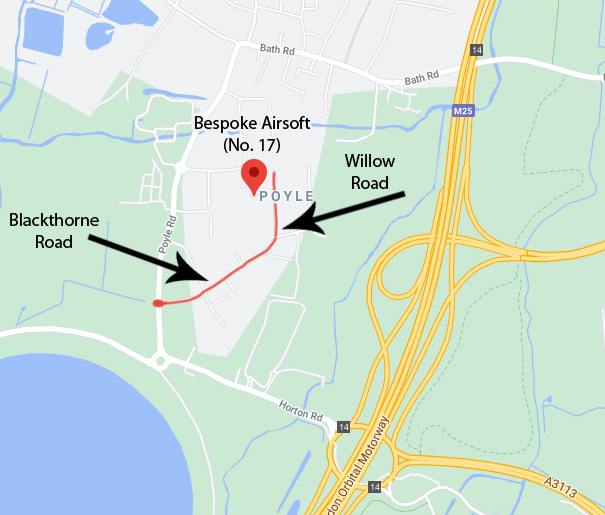 Shop View